Denise Hill, LCSW, MAC, helps teens with a wide range of behavioral issues
Willingway's CEO, Cherie Tolley, has always had a passion for helping adolescents and, when she took over the reins of Willingway, one of her goals was to form a program specifically designed for teens under the Willingway umbrella. That dream is being realized as we have begun servicing teenagers on an outpatient basis through individual counseling and group therapy, with further plans to develop an adolescent inpatient facility.
Denise Hill, LCSW, MAC was hired in March of 2018 as our adolescent therapist and has created an outpatient program for teens who struggle not only with substance abuse, but also with depression, anxiety and stress, anger, grief and loss, trauma, strained family relationships, and a wide range of behavioral issues. Denise comes to Willingway with more than 14 years of clinical experience and has utilized a number of different therapeutic modalities over the course of her career. Our alumni and community relations coordinator Emily J. McFarland was very excited to sit down with Denise to learn more about her background and her approach towards treating teens.
EM: Denise, thank you so much for taking the time to answer our questions. Tell us a little bit about yourself and your professional background.
DH: My family moved to Georgia when she I was five. My father got a teaching position at Georgia Southern at that time, so I really grew up right here in Statesboro. I currently live with my daughter, Sophia, in Bulloch County and we participate in the foster program for the Statesboro-Bulloch County Humane Society. I love animals. In fact, back on Easter of 2017 my daughter and I got a week-old pet duckling that we raised for a year. He would sit in my lap and eat out of my hand, falling asleep after swimming in the galvanized tub we had outside. I re-homed him to a flock back in April. In my spare time I enjoy participating in a number of different self-care activities, especially of the creative and artistic variety. I'm always exploring new therapeutic modalities to use with my patients.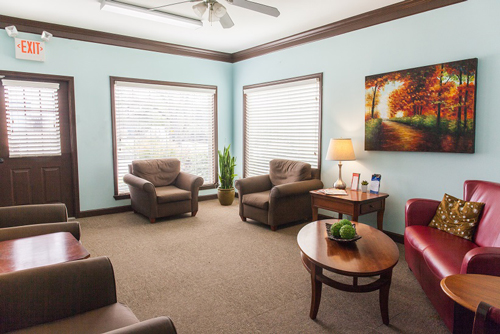 I began working in the medical profession when I was 20. I was trained by surgeons and pathologists at Bulloch Memorial Hospital as we created a hospital-based cancer program. During that time, I was sent to training in Chicago and California to become a Certified Tumor Registrar. Eventually I took a position in Augusta working with the radiation therapy center that is affiliated with the Medical College of Georgia. From there I went on to Brunswick, where I helped to develop a new cancer program for their hospital. Ultimately, I moved to Atlanta where I continued doing the same type of work – interacting mainly with data, department heads, and physicians. I was no longer involved in direct patient care and had been working in this capacity for about a decade. When I turned 30, I felt a desire to return to the direct, one-on-one work I once did.
At this point I had only completed about two quarters of college and if I was going to make a career change, it was necessary for me to return to school. I moved back to Statesboro and enrolled in Georgia Southern University as a 30-year-old freshman with all of the 18 and 19-year-olds! At first, I wanted to be a PA, but courses such as chemistry and microbiology were not my strong suit. I excelled, however, at cultural anthropology and developmental psychology. I was a fish in water. I began checking out different career options and it seemed that the Licensed Clinical Social Worker route was the more holistic choice, where you look at the person within their family and within the environment in which they live, which is what interests me the most. The best program in Georgia for this type of work was at UGA, so once I finished my bachelors in sociology at GSU, I went up to Athens and got my masters in social work. So that's how I made the switch from working with all that data to becoming a clinician!
EM: What drew you towards working specifically with adolescents?
DH: Oftentimes mental health issues are not recognized early on even though symptoms are present. Frequently adolescents are left undiagnosed until they are at a crisis level. The earlier the intervention and treatment is, the better the results are. I feel compelled to help teens before it gets to that level, before they experience consequences from high-risk behaviors. While they are our future, they are an underserved population and need and deserve the level of attention and care that are available to adults. If we don't do something different with our kids and really start trying to reach them, the violence that we see so often in the news will continue to escalate.
Another reason I am passionate about my work with teens is that they are often misunderstood. Frequently teens are treated as adults and assumed to process information as if they were adults and expected to make proper adult-like decisions, yet their brains and hormones are not nearly at that maturity level. Parents, teachers, and other authority figures will sometimes have an attitude of, "If he would just listen…" or "If she would just stop XYZ…", when the teen's or child's behavior is actually screaming out a message that needs to be addressed. I'm able to help the adolescent find a voice so that we can begin to address what's truly going on internally and get to a healthy solution.
EM: What do you love about working with adolescents?
DH: I love the chance to hopefully stop or address intergenerational cycles of unhealthy behavior. Say, if you have a family of "stuffers" where feelings, emotions and thoughts are not discussed and are instead pushed down and ignored — this behavior may cause depression, explosive anger, or even self-medication, all of which is very unhealthy and can lead to even bigger issues over time. When parents have children they will often have this idea that they are going to "do better," but it's hard to do that unless you have a different toolkit. That's where I am able to come in and provide the adolescent and even the family with healthy coping mechanisms.
EM: What are some areas with which you are able to help adolescents?
DH: Substance use, depression or mood disorders, anxiety and stress, anger, grief and loss, strained family relationships, family discord, and behavioral issues as long as the teen is not at the point where they are physically violent or in crisis.
EM: What types of therapy do you offer teens and their families?
DH: Individual and family counseling, group therapy, and multi-family groups.
EM: How do you build rapport with teenagers? How do you approach them?
DH: I find out what interests them and begin there. Are they into music or sports, or are they artsy? I ask the teen open ended questions in an attempt to draw them out. If they are more guarded, I might use different interventions where there isn't much talking, such as clay modeling or drawing a feeling. As the patient starts drawing, they begin to verbalize what the subject matter feels like. Doing something representational will often get the ball rolling for a larger conversation.
EM: How might a teen benefit from therapy?
DH: Therapy allows the adolescent to develop healthy coping strategies and realize that they are not alone. It is very normal for children and adolescents to be self-centered — that's part of this particular developmental stage — but because of that, when there is a problem going on at home, they will quickly assume that it's their fault. If the parents are going through a difficult time, the teen will oftentimes think "oh it's my fault – I did something to cause that." Or if mom has a substance abuse problem, the child will have the idea that "I stressed mom out so much that she had to turn to alcohol and drugs." Sometimes I end up seeing adolescents not because they have a substance abuse problem, but because there is a substance abuse problem within the family and it's affecting the teenager. We look at how the alcohol and drug use is impacting them and I help the teenager understand what their responsibility is and what part is not and how to take care of themselves within that situation.
I work with adolescents to find the root of their symptoms. Perhaps they are acting out or having difficulties at school because they never dealt with a traumatic event that they experienced. Or perhaps there is chaos at home. I help my patients resolve those issues, so that they don't have to carry that into adulthood and allow it wreak havoc on their lives long-term.
To find out more about services offered by Willingway,
contact us
24 hours a day at
888-979-2140
, and let us help you get started on the road to recovery.