Part two of a three part series on opioids in Georgia.
Last week we explored the history of opioids. They have been present in human communities almost since the dawn of civilization.
Today, we better understand their addictive qualities and destructive powers. Unfortunately, in recent years and despite this knowledge, opioid misuse is still on the rise.
Statistics from the Centers of Disease Control and Prevention (CDC) demonstrate an alarming trend. Between 1999 and 2014, the United States experienced an unprecedented increase in deaths from drug overdoses.
Take a look at these maps, published in an article from The Guardian, which show in shades of gray and red the number of drug-related deaths per 100,000 people in each country. The darker the county is, the higher the death count. The darkest red counties represent over 20 deaths per 100,000 people each year.
The first map is from 1999: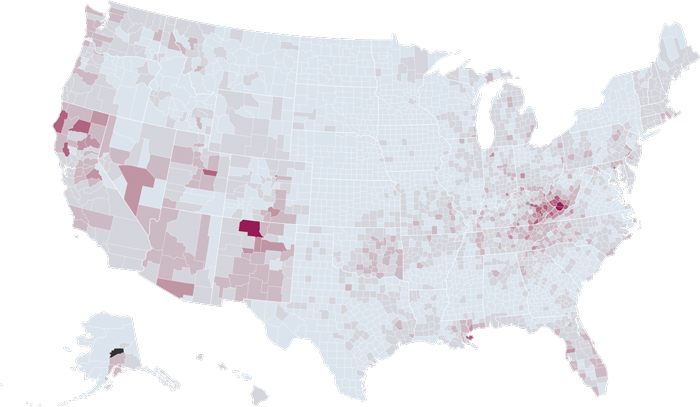 This second map is from 2014, the most recent year from which this particular dataset is available: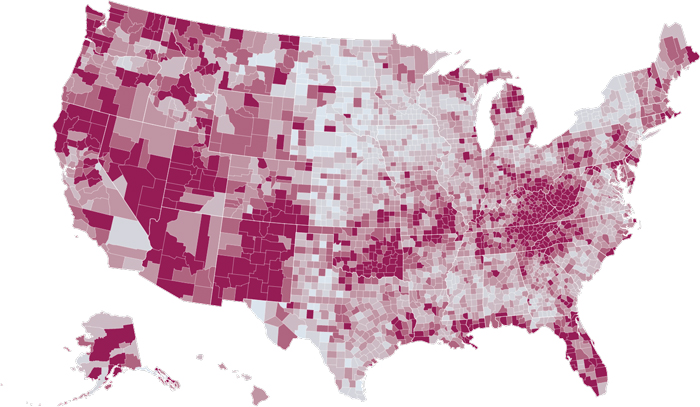 The increased distribution of deep red counties is staggering. It's also worth noting how the epidemic has spread. Clusters of high death rates in New Mexico, Appalachia, Northern California, and Alaska were easy to identify in 1999. The 2014 map shows a country ravaged by substance use disorders. Georgia's numbers have risen with the rest of the country. Since 2014, the trend has continued.
According to The Guardian, more than half of these deaths involved an opioid. Opioids of both the legal and illegal varieties are being abused: "The prescription painkiller epidemic also fueled the influx of a cheap, alternative opioid: heroin. As painkiller-related deaths began to fall in the early 2010s following federal and state crackdowns on prescription opioids, heroin-related deaths began to rise."
As a result, we see a country in the throes of an opioid crisis, with Georgia, of course, fighting the same battle.
The marginally better news is that within the context of the U.S., Georgia is not experiencing the worst increases in drug overdoses. A more recent CDC dataset indicates that West Virginia, New Hampshire, and Kentucky have seen the largest upswings. Nonetheless, Georgia's 6.7% increase in drug-related deaths from 2014 to 2015 should not be ignored.
The Substance Abuse Research Alliance (SARA) study mentioned last week describes the current situation in strong terms: "Georgia's prescription opioid and heroin problem threatens the well-being of every Georgian at every socioeconomic level and in every geographic region of the state."
The same study cites prescription pain relievers and heroin as the main culprits, accounting for 68% of the state's drug overdoses in 2015. Rural regions are the hardest hit in Georgia.
SARA offers these facts:
"Sixty percent of the 55 counties with drug overdose rates higher than the national average in 2014 are located in rural areas with limited access to substance use disorder treatment and/or medication-assisted treatment."

"Two-thirds of all counties in Georgia and 77 percent of rural counties have limited or no access to an evidence-based practice for opioid use disorder."
These numbers coincide with other troubling facts on the ground. Ten of Georgia's 67 licensed opioid treatment facilities are located in Northern Georgia — a region home to only six percent of the state's population. Meanwhile, the state government placed a one-year moratorium on building new treatment centers. From 2016 until early 2017 no new facilities were approved. (More on this topic next week.)
The following graph tells the same story. Opioids are a growing problem for Georgians:

Today more than ever it is important to educate ourselves about the risks of prescription opioid use and the prevalence of illegal opioids. Read. Research. Ask questions. Remember that there are treatment options available like Willingway. Our staff are on-call 24/7 to help you on your search for answers.
To find out more about services offered by Willingway medical detox center near
Savannah
contact us
24 hours a day at
888-979-2140
, and let us help you get started on the road to recovery.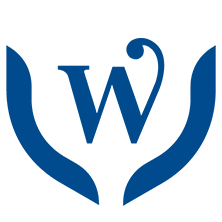 References
Time for Georgia to Admit It Has a Drug Problem. Georgia Political Review. October 17, 2016. Retrieved June, 2017.
What's the matter with Georgia? Thoughts on substance abuse statistics, policy, and history. November 30, 2012. Retrieved June, 2017.
Prescription Opioids and Heroin Epidemic in Georgia. Retrieved June, 2017.